Dental Crowns & Bridges – West Seneca, NY
Beautifully Restore Your Tooth
Dentists have used crowns and bridges for many years to repair damaged teeth and replace missing teeth. Both are permanently cemented into place, so you never have to worry about a denture coming loose or the need to remove your prosthesis for cleaning. Patients can restore a damaged smile or replace a missing tooth with dental crowns and bridges in West Seneca, NY to rejuvenate a smile that has suffered dental damage and tooth loss.
Why Choose Applegate Dental for Dental Crowns & Bridges?
State-of-the-Art Tooth-Colored Materials
Restorations Customized for Each Patient
Highly Skilled and Caring Dental Team
Dental Crowns in West Seneca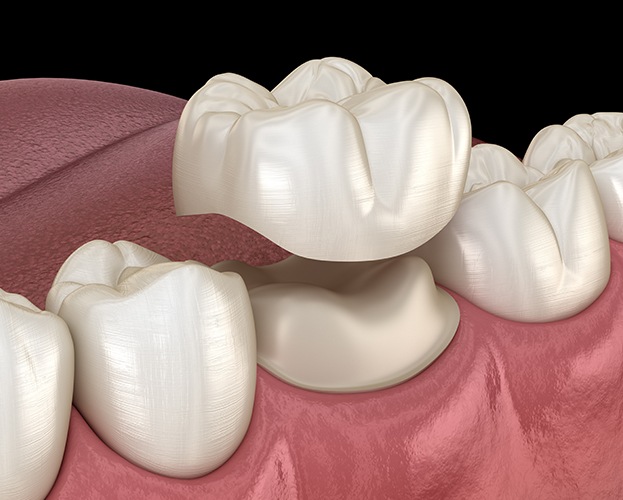 Dental crowns, also called dental caps, fully encapsulate a tooth in order to restore form and function. The dentists at Applegate Dental use dental crowns for a number of different reasons. For example, when a dental filling is not enough to repair a tooth with severe decay, a crown may be the solution. Likewise, a tooth that is deeply cracked may need a crown to prevent the tooth from splitting. Dental crowns are also commonly used to protect a tooth that has undergone a root canal and to complete a dental implant.
Receiving a crown requires scheduling two separate visits to the dentist near me in West Seneca. At the first, any decay is removed, and the tooth is minimally reshaped so that the crown fits comfortably between adjacent teeth. A temporary crown is positioned over your tooth until the second visit when the permanent crown is cemented into place.
Dental Bridges in West Seneca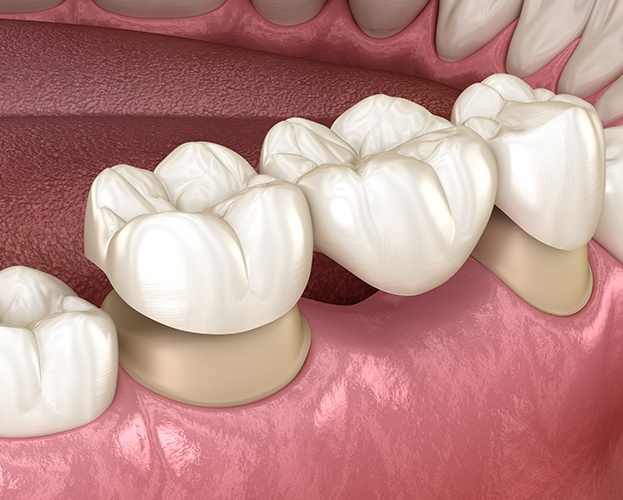 A dental bridge spans the gap in your smile when you have missing teeth. Made of false teeth, also called pontics, your bridge will be custom designed and handcrafted to look completely natural in your mouth. But a bridge not only makes your smile look better, it also makes your mouth healthier. Tooth loss can lead to a myriad of dental problems. For example, teeth keep one another in proper alignment. If one goes missing, then the others are more likely to shift, which can lead to bite problems. In addition, your risk of decay in other teeth as well as gum disease increases with tooth loss.
Dental Crowns and Bridges in West Seneca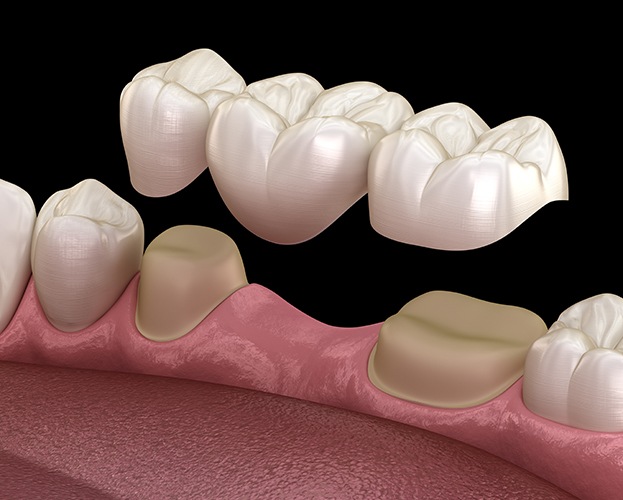 When combined, crowns and bridges offer a permanent replacement for tooth loss. Abutment teeth on either side of missing teeth are reshaped in order to accommodate dental crowns. These crowns, in turn, securely hold the dental bridge across the open space in your smile. The crowns and bridge are produced in a dental lab and are fabricated as one contiguous piece.
Once in place, a crown and bridge requires some special hygienic care. In addition to brushing and flossing just as you do for your natural teeth, you'll also need to use a special floss threader in order to clean between the bridge and your gum tissue underneath.