Cosmetic Dentistry – West Seneca, NY
Helping Your Smile Shine Again
If you don't fall in love with your smile every time you see it, let the skilled cosmetic dentist and team at Applegate Dental of West Seneca, NY help. Our team knows how much cosmetic dentistry can impact the way people feel about themselves, the impression they make on other people, and the number of times each day that they smile. Our goal is always to help patients smile more! If you're unhappy with any aspect of your smile, let us help. Contact our friendly team to schedule a cosmetic dentistry consultation. During this evaluation, we'll review your smile, answer your questions, and help you establish a treatment plan that delivers the results you want on your schedule and within your budget. Keep reading or give us a call to find out more about cosmetic dentistry from our West Seneca, NY dental team.
Why Choose Applegate Dental for Cosmetic Dentistry?
Lifelike, Tooth-Colored Veneers and Crowns
Advanced Virtual Smile Design Technology
Convenient At-Home Teeth Whitening Kits
Porcelain Veneers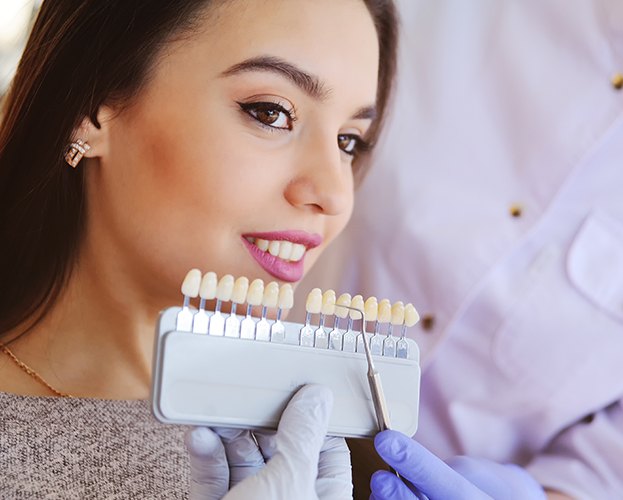 Porcelain veneers may be the simplest way to transform smiles while maintaining the maximum amount of natural dental structure. Veneers are thin sheaths of dental grade porcelain placed over the front of teeth to conceal any number of smile flaws seamlessly. Most patients should plan to have porcelain veneers placed over the course of two appointments. At your first visit, we remove a small amount of surface enamel from teeth and capture impressions of your prepared smile. Using these impressions, our dental lab crafts a set of custom veneers. Until this final veneer is returned, we place a temporary set to allow patients to get used to the look and feel and to protect teeth. Patients return once the final porcelain veneers arrive, and we exchange the temporary for the custom cosmetic solution.
Metal-Free Dental Crowns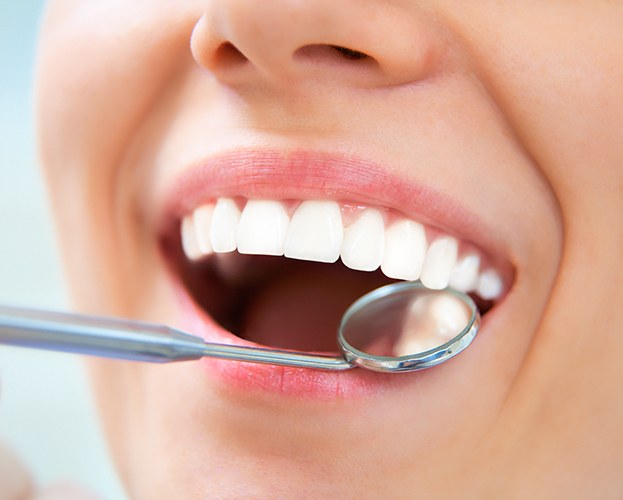 Metal-free restoration materials blur the line between cosmetic and restorative care offering seamless repair for damaged or decayed teeth. Crowns, bridges, inlays, onlays, and other dental restorations can be crafted from a number of materials including metal, gold, and porcelain bonded to metal. While these solutions are durable, they mar smiles, and those patients who are sensitive to metal may experience significant irritation or reject the restoration all together. Metal-free, all-ceramic dental restorations offer patients a durable, cosmetically superior solution with the added bonus of being ideal for those patients with sensitivities or allergies to metal.
Learn More About Metal-Free Restorations
Cosmetic Dental Bonding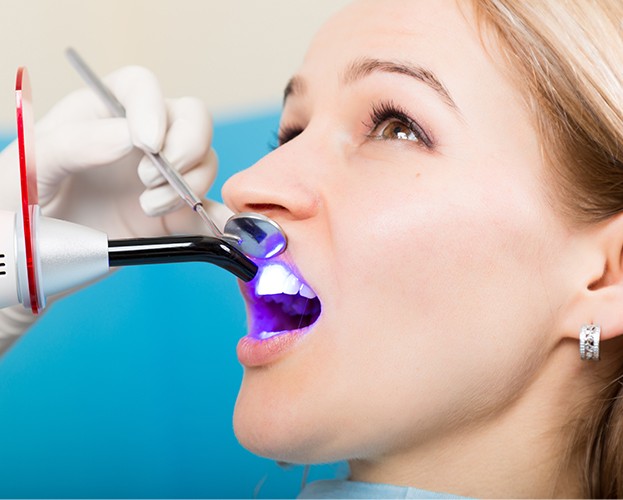 Patients looking for a quick fix for minor cosmetic problems should ask about cosmetic bonding. This procedure takes the composite resin commonly used for fillings and applies it to the teeth in order to hide stains, cracks, and other flaws. The material will be very carefully shaded and blended so that no one else can tell that you've had work done to your teeth, and the procedure can typically be completed in just one visit.
Gum Recontouring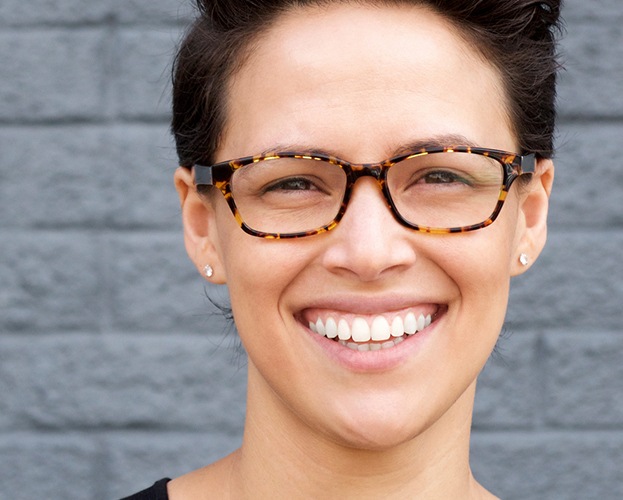 When you smile, do your teeth look "gummy" or uneven? In many cases, we're able to remove a small amount of gum tissue to reduce the overwhelming effect of gummy smiles or even out the gum line making smiles appear more even. The process is relatively straightforward. Using our state-of-the-art Biolase soft tissue laser, we carefully remove small amounts of gum tissue while the laser simultaneously cauterizes the site for minimal discomfort during the procedure and reduced healing time following treatment.
Learn More About Gum Recontouring
Virtual Smile Design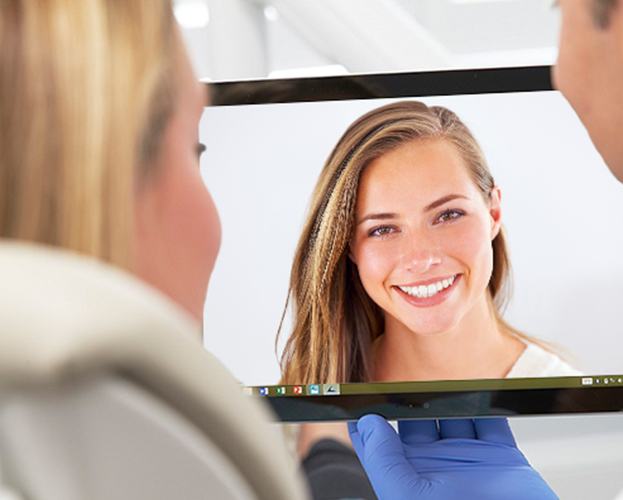 You've probably already heard all about the difference cosmetic dentistry can make, but there's always the worry that you won't be happy with the results afterwards. To give you a little more confidence in your chosen cosmetic treatment, we can take a photo of your teeth as they are now and digitally alter it in order to show you what you can expect. This gives you a way to preview your smile so that you know what to expect on the day of the actual appointment.
Teeth Whitening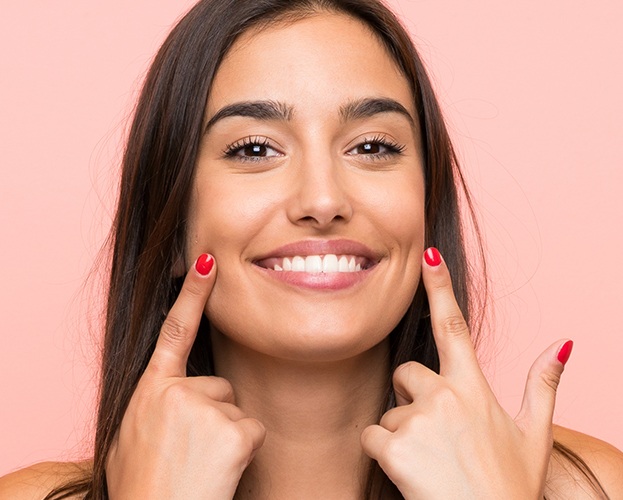 It's no secret that teeth whitening is one of the most popular cosmetic dentistry services available. Take a walk down the oral hygiene aisle at your local grocery store or pharmacy and you'll see a wide variety of whitening toothpastes, mouthwashes, strips, and gels all promising dramatically whiter smiles in an instant! Unfortunately, these products are typically unable to the deliver on these promises. Professional teeth whitening in our dental office or using custom take-home whitening treatments delivers dramatically brighter smiles in as little as one hour. Unlike over the counter whitening agents, our professional whiteners are able to be administered in higher doses because we're able to protect soft tissue from the possibly damaging effects. Additionally, we're able to keep neutralizing saliva away from the teeth, so the stronger dosage of whitening is active longer. Schedule a cosmetic dentistry consultation to find out more about professional teeth whitening.