Invisalign® – West Seneca, NY
See-Through Orthodontic Solutions
In the past, many patients we talked to about orthodontic treatment thought that smile alignment meant adolescents with a mouth full of metal. While we do traditionally recommend orthodontic treatment begin at earlier ages when teeth are easier to adjust, the Applegate Dental team offer Invisalign® in West Seneca, NY for teens and adults. Contact us to schedule an orthodontic consultation to find out more.
Why Choose Applegate Dental for Invisalign®?
Available for Adults and Teenagers
Metal-Free Alternative to Braces
Up-to-Date Patient Safety Procedures
Invisalign®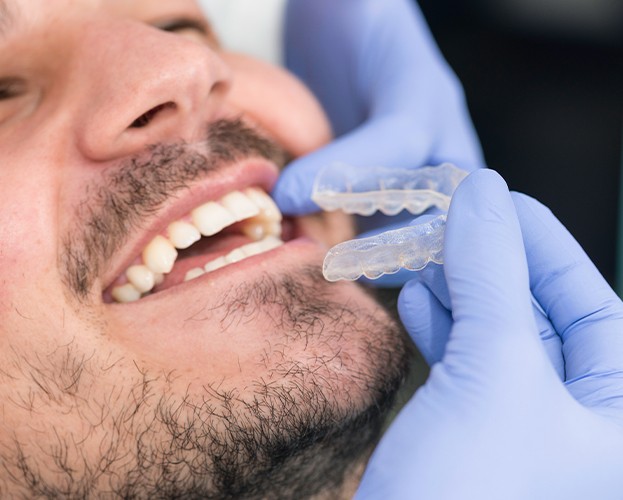 Invisalign® is possibly the most popular cosmetic orthodontic solution. The Invisalign® system utilizes a series of clear plastic alignment trays to gradually shift teeth into their ideal position. Each set of aligners represents one step closer to the desired result. Over the course of a few weeks of wear, the aligners gently put pressure on teeth causing them to glide into this new position. After the end of the predetermined wear time, patients simply exchange their current set of aligners for the next set in the series. About every six weeks, patients visit our dental office where the dentist will review their progress to ensure treatment is proceeding as planned. If not, we can easily adjust the treatment plan to get patients back on track. These comfortable, removable aligners allow patients to maintain their regular diet and oral hygiene routine throughout treatment.
Invisalign® Teen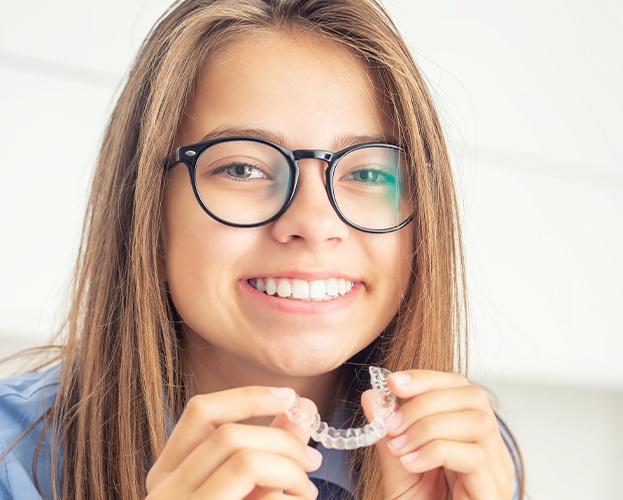 In most cases, teens opt for the more traditional bracket and wire braces, but there are a number of situations where we may recommend Invisalign® Teen including:
Teens who have less severe bite alignment concerns may be able to achieve their results more quickly and comfortably with fewer visits
Teens who are active in many extracurricular activities or who travel frequently may not be able to devote the time consistently to visiting an orthodontist for bracket and wire adjustments
Teens who are sensitive to metal will want to consider alternative materials for their traditional wires or the more cosmetic Invisalign® Teen
Teens who have sensitive teeth may be unable to comfortably correct their smiles with traditional braces
Teens who are more susceptible to tooth decay may not be good candidates for bracket and wire orthodontic systems that make cleaning teeth more difficult at times