Emergency Dentist in West Seneca, NY
Broken Tooth? Give Us a Call!
When you find yourself in a dental emergency, it can be difficult to know where you should turn for help. Should you go to the emergency room? Should you contact your emergency dentist in West Seneca? Well, unless you have broken bones or have been bleeding for longer than 10 minutes, our dental office can offer the treatment you need. In fact, we suggest saving our number in your phone just in case you or a loved one goes through a dental emergency, and we'll do our best to see you on the same day for emergency dentistry in West Seneca, NY. If you have a painful, knocked-out, or broken tooth, give us a call!
Why Choose Applegate Dental for Emergency Dental Care?
Variety of Services Under One Roof
Same-Day Emergency Appointments
Sedation Options for Maximum Comfort
What to Do in a Dental Emergency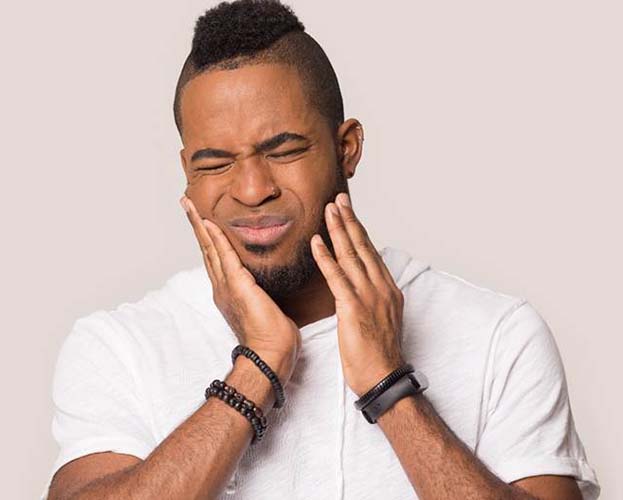 Step 1: Call Us As Soon As You Can. Time is of the essence for most dental emergencies, so call us right away so we can schedule you for a same-day emergency appointment.
Step 2: Get First-Aid Instructions Over the Phone. When you call our dental office, our helpful team can guide you through the situation and give you tips to deal with the emergency until you arrive.
Step 3: Visit Us for An Emergency Dental Exam. When you reach our office, one of our highly trained and experienced dentists will see you right away to evaluate your situation and alleviate your pain.
Step 4: Review the Findings and Make a Plan. Your West Seneca emergency dentist will review their findings with you and fully explain all your treatment options, including their estimated length and cost, to help you make a well-informed decision about your care.
Step 5: Get the Fast, Professional Care You Need. Once you have created a custom treatment plan with your dentist, our team will get to work right away. For patients who are anxious or uncomfortable, we may recommend sedation options for a relaxing treatment.
The Most Common Dental Emergencies
Dental emergencies can happen when you least expect them, and they can be unsettling or even frightening. Luckily, our team here at Applegate Dental is here to help! Although we have our main dental emergency page, there are other situations you could face that require urgent care. Give our team a call, and we'll be happy to give you advice and schedule you as soon as possible. In the meantime, here are some common scenarios and how to handle these dental emergencies in West Seneca, NY.
Understanding the Cost of Dental Emergencies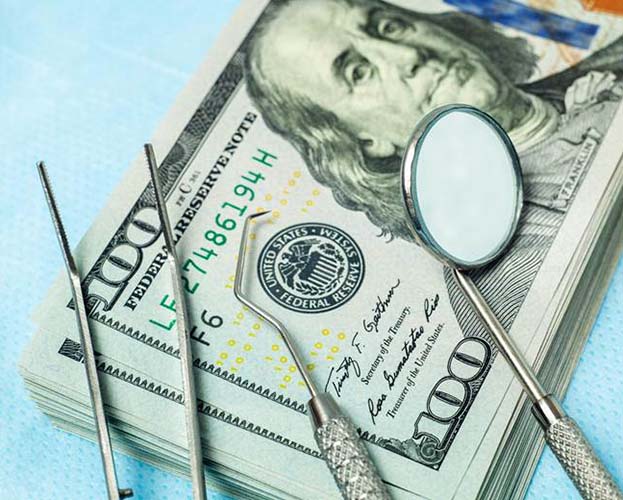 Each dental emergency is unique. Even if two patients come in with the same issue, their treatment can differ based on their individual needs. This customization makes giving general estimates without an evaluation at our office nearly impossible. However, one thing is true no matter the dental emergency: you should never wait to seek professional help. Oral issues do not improve over time—they just get worse! If you put off taking care of the problem, it will require more invasive procedures and more expensive treatment. Read on to learn more about the cost of dental emergencies in West Seneca.
Every Dental Emergency is Different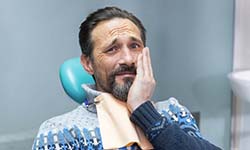 In general, dental emergencies originate from one of two causes. They can come from decay that has been allowed to remain through insufficient hygiene or from a dental injury of some sort. In most of these cases, bacteria have access to the more vulnerable and more sensitive center of the tooth and have the potential to cause serious damage to your smile and pain. Here are some examples of a dental emergency:
Partially or entirely knocked-out tooth
Toothache
Broken or chipped tooth
Lost filling or crown
Abscess in the gums
Each different type of dental emergency will require a different type of treatment, and thus, cost a different amount.
Does Dental Insurance Cover Dental Emergencies?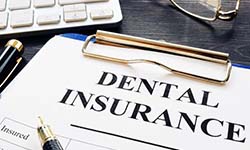 In order to get the maximum value from your dental insurance benefits, you need to take advantage of your preventive care services. However, most insurance plans also partially cover emergency-type care. For example, you may be responsible for paying around 50% of the cost for major restorative work, such as a dental crown. Our team at Applegate Dental is happy to look deep into your insurance plan to find ways for you to save as much as possible.
Taking Care of Your Smile Can Save You Money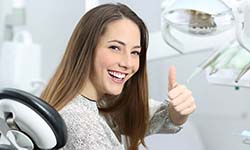 A toothache or damaged tooth can make life difficult, not to mention painful. But if you're not careful and fail to act quickly to resolve the problem, you can get hurt a second time—when you get your bill. With some medical conditions, such as a cold, the patient can recover from the illness on their own over time and often do not require professional help. However, the same cannot be said for any dental problem. These issues never go away without some intervention from a dentist. In fact, they will only get worse as time passes. This means that the longer you wait to seek treatment, the higher your treatment cost is likely to become. For instance, a minor issue to fix today may progress into a more complex and expensive issue down the road. On the other hand, the sooner you get the problem fixed, the less you'll likely have to pay. No matter what treatment you need, our caring team at Applegate Dental will work with you to make your emergency dental work as affordable as possible.
How to Prevent Dental Emergencies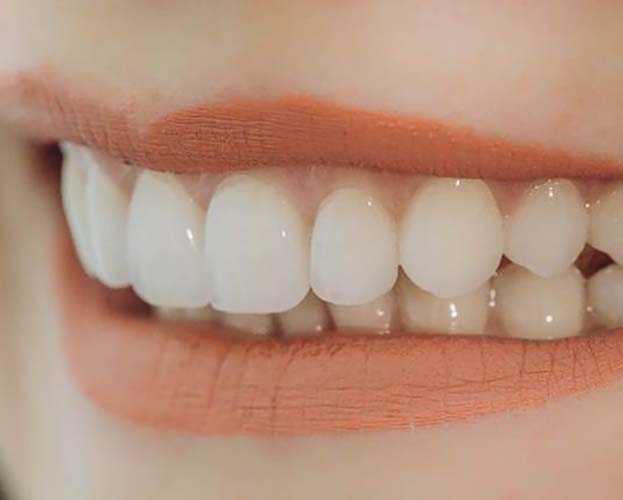 Did you know that most dental emergencies can be avoided? At Applegate Dental PLLC, our team of experts is always here to help when a crisis occurs, but we are also available to provide beneficial tips and advice on ways to protect your smile from danger and possible damage. We know not all accidents are preventable, but if you want to take extra precautions to keep your smile from becoming chipped, cracked, or broken, we invite you to take a look at the few tips we recommend on how to prevent dental emergencies for our West Seneca, NY dental patients.
Practice Good Dental Habits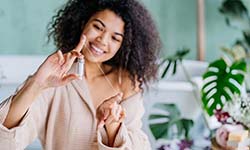 The first step to greater protection is maintaining a good oral hygiene routine. Brushing twice daily for two minutes, using fluoride toothpaste to strengthen tooth enamel, flossing at least once a day, and rinsing with an ADA-approved mouthwash are extremely effective as combating tooth decay, gum disease, and cavities. This daily routine also serves to give your smile a better chance of avoiding damage, especially if you are using products designed to strengthen enamel and improve gum health.
Avoid Chewing on Hard Foods & Items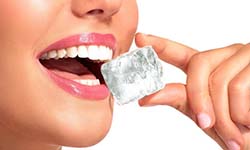 Whether you have a bad habit of chewing on pens and pencils while at your desk, or you prefer to snack on crunchy peanut brittle and hard candy, your teeth will ultimately suffer. Why? Over time, your tooth enamel can begin to wear down. Age, daily use, and unnecessary pressure can cause teeth to weaken, chip, crack, and become fractured. By choosing to eat foods that are hard and crunchy, and opting to chew on inanimate objects, you will speed up the process of wear and tear, leaving your teeth vulnerable to damage and decay.
Instead of reaching for that pen on your desk, keep sugarless gum in your pocket. Want to take a bite of a juicy apple? Try cutting it up into more manageable bites so your teeth do not suffer the consequences.
Invest in a Quality Mouthguard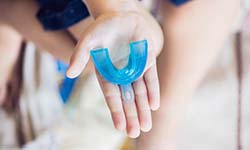 Do you enjoy playing sports? Are you prone to grinding your teeth at night? If you said "yes" to one or both of these questions, it is time you invested in a mouthguard. Your dentist in West Seneca can provide you with a custom-made oral device that is designed to fit comfortably in your mouth while protecting your teeth and soft tissues from injury.
It does not matter if you are preparing for a hard-hitting tackle on the field or simply want your teeth to remain intact while asleep at night, a mouthguard can give your teeth and gums the protection they need, so you can look and feel great about your smile.
Use Tools, Not Teeth to Open Packaging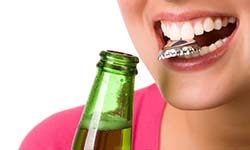 Our teeth are designed to chew and gnaw through food, not containers or packages. Scissors, bottle cap removers, and other actual tools can and should be used to open items that can seriously harm your smile. One minor slip trying to remove a bottle cap can result in an emergency trip to the dentist's office or worse, the emergency room.
Emergency Dentistry FAQs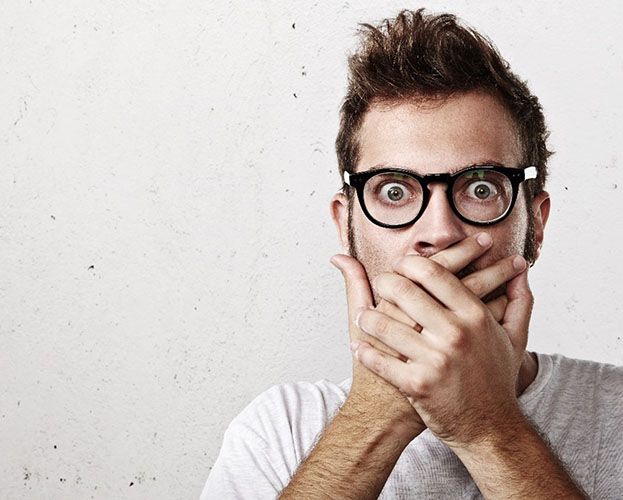 In a dental emergency in West Seneca, your mind can race through so many thoughts and questions. We'd like to help answer a few for you, so you can focus on what you need to do next. Below are our responses to some of the most common questions about emergency dentistry. We hope it eases your mind and makes your situation a little less stressful! We're here to help you get back to oral health as quickly as possible.
Should I Go to the Emergency Room?
Although you are experiencing a dental emergency, in most situations, you should not go to the emergency room. Most hospitals do not have a dental expert on staff or the required equipment to treat emergency patients with dental issues. The most they can do is prescribe antibiotics and possibly pain medication; however, the cause behind your tooth pain will still be there, causing you discomfort and harming your smile. That's why we say your first call should be to Applegate Dental! We're here to quickly take care of the actual problem and relieve your pain safely.
What If I Do Nothing about My Dental Emergency?
If your dental emergency isn't painful, it may be tempting to skip an urgent visit to the dentist altogether. It's true that a chipped tooth may not be as urgent as other emergencies, but even a minor chip could lead to additional problems later on. The inner layers of the tooth, which are more sensitive, could be exposed to bacteria and develop a cavity. If you already have a toothache from a cavity, it can only get worse, possibly killing the tooth or spreading to other teeth. No dental issue gets better over time, which is why it's important to stop it as soon as possible.
Can I Fix Dentures That Have Broken in Half?
If your dentures break, do not try to continue wearing them. They can harm your gums and feel very uncomfortable. You may be tempted to use superglue or another adhesive to fix the restoration on your own. However, some of the chemicals in those products are toxic. In most situations, broken dentures need to be replaced entirely so that you can experience a comfortable fit again.
What If I Can't Afford Emergency Dentistry?
In an effort to save on the cost of dental treatment, some patients wait to see the dentist for as long as possible. However, you should do the opposite! The earlier you can resolve the problem, the less it is likely to cost to treat. At Applegate, we also understand that paying for certain procedures may stretch your budget a little too thin, which is why we accept payment through CareCredit. We can walk you through each step of the application, so you can break up the cost into easier monthly payments.