Porcelain Veneers – West Seneca, NY
Revitalize Your Smile in Just Two Visits
Are you dissatisfied with the appearance of your teeth due to cosmetic imperfections? Are you asking, "Where is a dentist near me for a noninvasive cosmetic procedure?" If you answered, "yes," Applegate Dental is here to help. Porcelain veneers allow you to drastically enhance the beauty of your smile using a simple cosmetic procedure. By attaching thin shells to the front side of the teeth, cosmetic flaws are instantly hidden to give you more attractive teeth. The versatility of the veneers allows you to completely transform your smile with just one procedure. If you are ready to get your dream smile, Applegate Dental has the solution you need with porcelain veneers in West Seneca, NY.
Why Choose Applegate Dental for Porcelain Veneers?
High Quality Porcelain Materials
Long-Lasting Cosmetic Improvements
Caring, Knowledgeable Dental Team
Benefits of Porcelain Veneers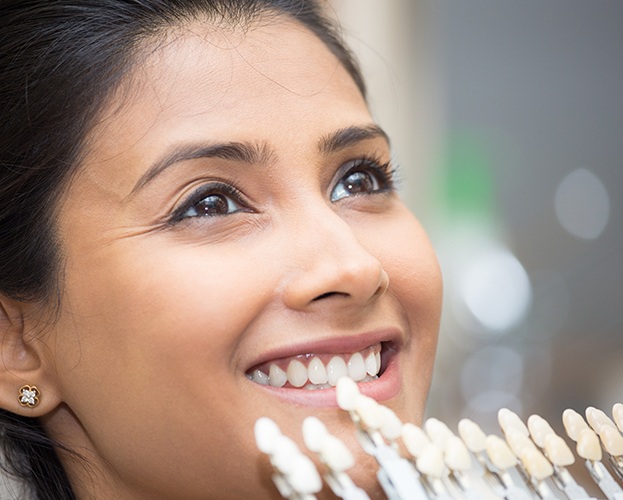 Porcelain veneers have quickly become one of the most popular cosmetic procedures because they can effectively correct several cosmetic issues. Overall, your teeth gain a shapelier and more proportionate appearance. Often, veneers are used to make the teeth whiter by hiding dark tooth discoloration that does not respond to traditional whitening treatments.
Veneers can be used to hide chips, cracks, and abnormally shaped teeth. This is the perfect option for those who have shorter than average teeth. In some cases, you can use veneers as an alternative to orthodontics. By hiding minor alignment concerns, your teeth will appear straighter without needing a lengthy treatment.
When compared to dental veneers made from other materials, porcelain is the preferred choice because it is thinner. This allows more of the tooth's structure to remain intact. Plus, porcelain closely mimics enamel so you will have a natural-looking, bright smile you will love showing off.
Porcelain Veneer Procedure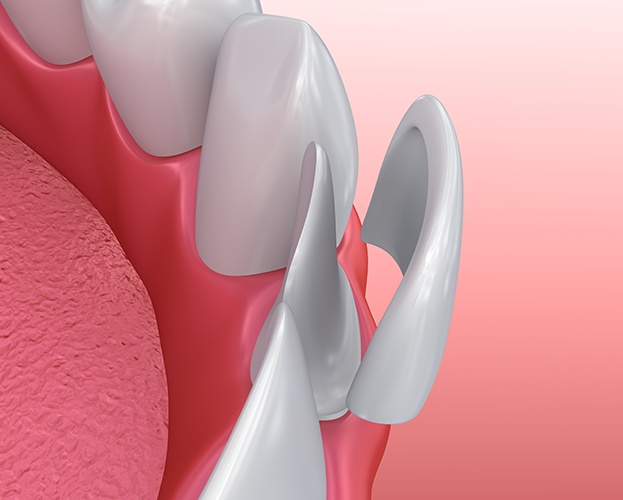 To transform your smile, you will need a consultation to see if you are a candidate for the procedure. If veneers are right for you, a customized treatment plan is created to help you reach your desired results. During the first phase of treatment, we thoroughly clean your teeth. If you have dark tooth discoloration, we may recommend a whitening treatment to ensure the highest level of results.
To create your custom-made veneers, we will need to remove a small amount of enamel by etching the surface of the teeth. This is necessary to ensure the veneers sit flush on the teeth while creating a secure bond. After preparation is complete, impressions are taken to create your new smile. The impressions are sent to our dental lab to ensure they meet your specific requirements.
While you wait for your veneers, we attach temporary veneers. In a couple of weeks, your new veneers will be ready to be bonded to your teeth. With the right care, your new smile will last an average of 10 years.
Get a New Smile with Porcelain Veneers
If you are ready to gain an attractive, confident smile with porcelain veneers in West Seneca, we will help you achieve your goal. We will create the customized treatment plan you need for a natural-looking smile using a noninvasive procedure.
Transform your smile in just a couple of appointments with porcelain veneers. Contact Applegate Dental today to schedule your consultation.