Replacing Missing Teeth – West Seneca, NY
Restore Your Full, Brilliant Smile
After one or more teeth, you'll likely end up struggling with basic oral functions such as chewing, notice that your overall health starts to suffer, and generally feel like your self-esteem has started to decline. Luckily, an incomplete smile doesn't have to stay that way; there are plenty of options for replacing missing teeth, and you're sure to find a beautiful, long-lasting restoration here at Applegate Dental. Call us if you're facing life with an incomplete grin, and we'll discuss your options for replacing missing teeth in West Seneca, NY.
Why Choose Applegate Dental for Replacing Missing Teeth?
Dental Implants Placed in Office
Lifelike, Customized Dental Bridges
Up to Date with Latest Safety Procedures
Dental Bridges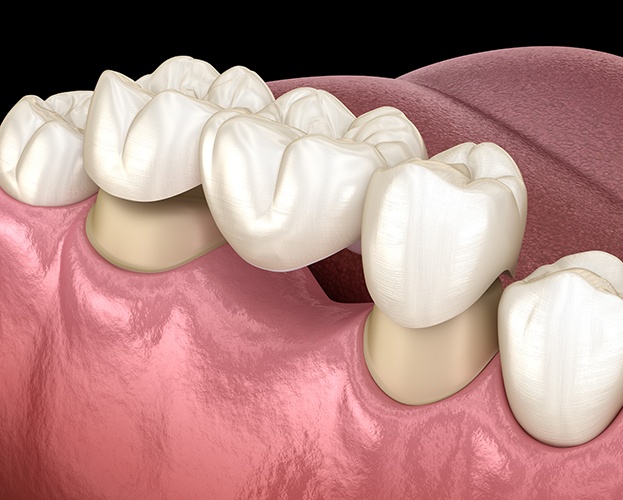 Dental crowns and fixed bridges are two of the most commonly recommended restorative dentistry solutions at Applegate Dental. Crowns are used to restore teeth in a number of situations including:
Severe decay too extensive to be restored with a filling or other more conservative options
Cosmetic flaws like misshapen or malformed teeth or deep-set stains
As the finishing touch on root canal therapy to protect the treated tooth
As part of dental implant
To hold fixed bridge dental prosthetics in position affixed to crowns on either side of one or more replacement teeth
Whatever reason patients need a dental crown, the process is the same. Patients should plan to visit our team two times. During an initial visit, a small amount of surface enamel is removed from teeth to prepare them to receive a crown. We then collect dental impressions to send to our trusted lab where a custom crown is crafted. In the meantime, we place a temporary crown to protect the tooth. Once the final crown or bridge is returned to our dental office, patients come back for a second appointment where we exchange the temporary for a permanent solution.
Dentures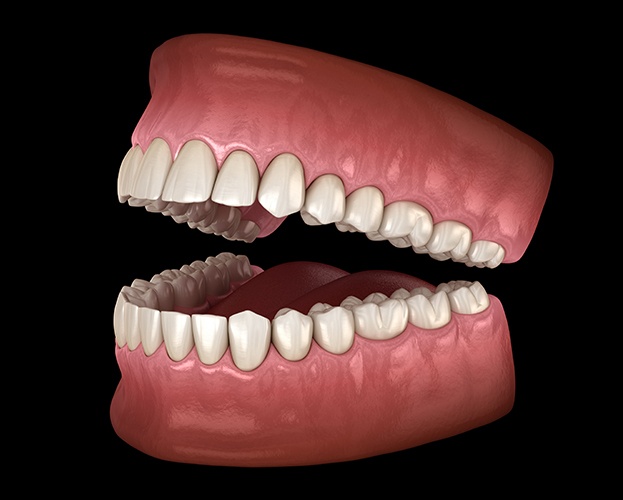 Are you missing one or more teeth in your mouth? Applegate Dental can provide a personalized full or partial denture set that allows you to get back to your normal life. Be able to chew, smile and laugh with confidence again! We offer both traditional and custom sets depending on what your financial situation allows. If you're a patient with dentures, please continue to brush your gums, tongue, and palate every morning in order to stimulate circulation in the tissues, as well as attend regular oral cancer screenings. Do your dentures need a good cleaning? Our dental office is happy to clean them and get them looking as good as new!
Dental Implants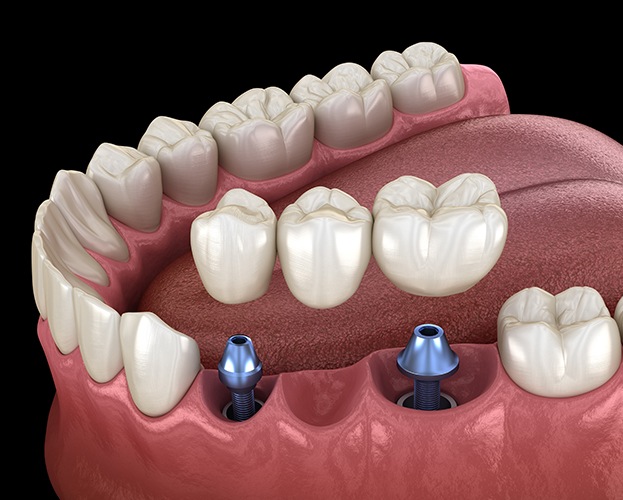 Are you worried about needing to replace your false teeth too often? Or are you bothered by dentures that tend to slip at embarrassing times? Dental implants offer a much more permanent solution to your missing teeth; once they've been placed in your mouth, they'll fuse with the jawbone in order to act as sturdy new roots for a crown, a dental bridge, or dentures. We can place your dental implants in-house so that you don't have to visit a separate specialist across town.