Dental Implants in West Seneca, NY
Enjoy a Full Smile Again
Are you constantly thinking about your missing teeth? Do they force you to avoid your favorite foods, not say certain words, or think twice before smiling? If so, then the team at Applegate Dental is ready to offer you the most complete and state-of-the-art tooth replacement available today: dental implants. With these lifelike restorations, we can effectively bring back any number of missing teeth and help patients reclaim their full smiles for a lifetime. If you are ready to finally say "goodbye!" to the gaps, contact us today to schedule a consultation to discuss tooth replacement with dental implants in West Seneca, NY.
Why Choose Applegate Dental For Dental Implants?
Convenient In-Office Placement and Restoration
Beautifully Replace Any Number of Missing Teeth
Sedation Options for Optimal Comfort During Treatment
What Are Dental Implants?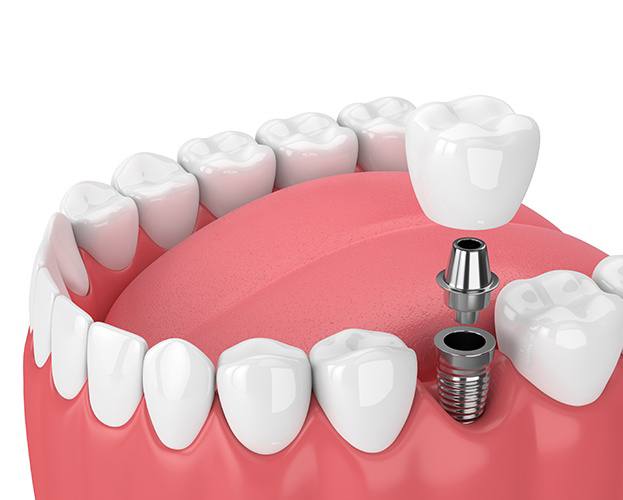 Dental implants are the only available tooth loss solution that replaces missing teeth both above and below the gumline. A small titanium implant post is inserted directly into the jawbone to replicate the roots of the missing tooth. Once it's integrated with the surrounding bone tissue and formed a stable foundation, a small connector piece called an abutment is used to secure the final restoration on top of it. This custom-made crown, bridge, or denture is crafted from high-quality materials that look just like healthy tooth enamel. When you rebuild missing teeth from the roots up like this, the end result is a new smile that looks, feels, and functions just like normal once again!
The 4 Step Dental Implant Process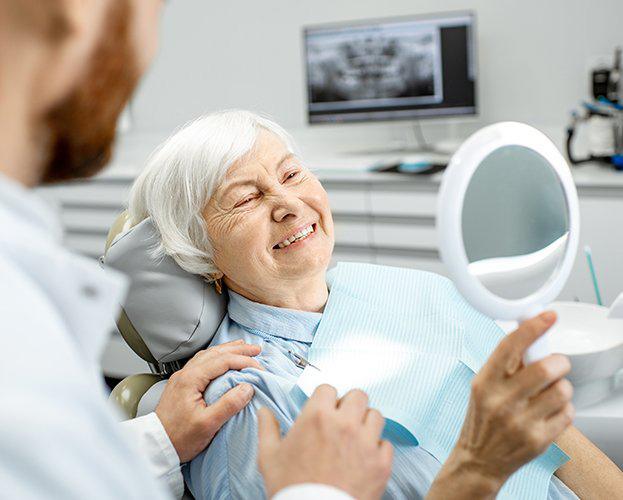 At Applegate Dental, we never want you to feel confused or in the dark about your treatment. Rather, we want you to know what to expect and be confident moving forward. Our team will guide you through the entire process and answer any questions you may have. Although one of the most complex treatments in dentistry, the implant process consists of these basic but important steps: consultation, implant placement, osseointegration, and restoration.
Initial Dental Implant Consultation
Even though we won't perform any dental work, this appointment is essential to your implant success. During this visit, we'll examine your oral cavity, learn about your medical history and medications you're taking, and take images with our CBCT scanner. From these data, we can determine whether you're a good candidate for this treatment. If something stands in your way, such as gum disease, we can address the issue and get you in a better position to move forward.
Dental Implant Surgery
The placement is fairly straightforward. A small incision is made in the gum line where the implant is to be placed. The implant post is then inserted into the opening which may or may not be stitched closed. This treatment is typically no more painful than a tooth extraction, root canal, or other restorative procedure, but patients should expect a longer period of healing and recovery. Before you leave our office, we'll give you instructions for taking care of the site so that you can avoid complications.
Dental Implant Osseointegration & Abutment
Over the course of several months, a process known as osseointegration occurs. Osseo means bones, so literally this is the bone integration process. The implant post and abutment, or connector piece, are crafted from high quality materials like titanium. When placed below the gum line, the implant post mimics the natural function of tooth roots, and over time, the supportive jawbone and connective gum tissue attach to the implant just as they would tooth roots.
Delivery of Dental Restoration(s)
After the abutment has been placed, we can then start the process of customizing your restoration with a trusted dental lab. Using our iTero digital intraoral scanner, we'll take impressions of your mouth. From these impressions, the dental lab will fabricate restorations that look and feel just like real teeth. Whether you need a full denture, partial denture, bridge, or a single crown, it'll blend in seamlessly with your smile.
How Dental Implants Can Change Your Life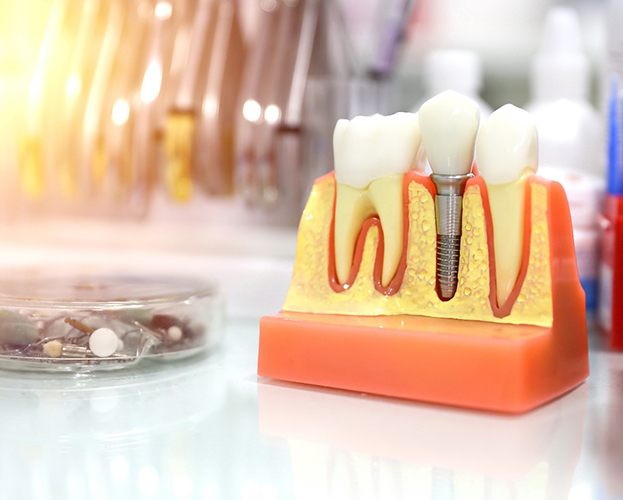 Choosing the right method of replacing your missing teeth can be a big decision, and you want to pick the one that will give you the most value and the best benefits. Dental implants are unlike any other tooth replacement option in that they go beyond the gum surface to replace the entire tooth structure—including the root. This critical feature gives dental implants many important benefits for your daily life and long-term wellbeing that you simply can't get with other options like dental bridges or dentures.
More Youthful Appearance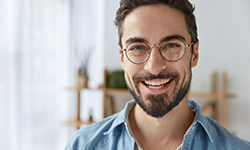 When a tooth is lost, the jawbone is no longer stimulated, so it begins to deteriorate and shrink away. Eventually, your facial structure will even change to look older and sunken. Dental implants help keep the jawbone strong and healthy, preserving your facial shape and youthful appearance for longer.
Reliable, Powerful, & Comfortable Biting Force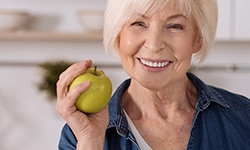 Because dental implants are firmly embedded and integrated with the jawbone, they enable you to bite, chew, and grind with almost as much strength as you used to with natural teeth. This allows you to continue eating nutritious foods, which can improve your health and quality of life.
Better Protection for Remaining Teeth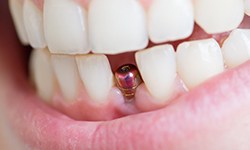 If you still have natural teeth left in your mouth, dental implants are a great way to help preserve them. Other tooth replacement solutions rely on these remaining healthy teeth for stability, but doing so can make them more susceptible to decay or even total loss down the road. In contrast, dental implants are completely independent of these healthy teeth, allowing you to keep their healthy structure for as long as possible. In addition, by continuing to stimulate the jawbone, dental implants help maintain the support that jawbone provides to your remaining natural teeth.
Improved Confidence
Especially in professional or social situations, you want to be sure that your artificial teeth are going to serve you well and not slip out of place. With dental implants, which become integrated with the bone, you do not have to worry about this happening. You can have confidence in your smile again.
A Smile That Lasts a Lifetime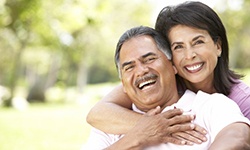 In general, dental implants have a high success rate. In fact, over 95 percent of dental implants are still successful even 10 years after they have been placed. As long as you brush and floss daily and visit our West Seneca dental office for checkups and cleanings twice every year, your dental implants can last for 30 years or more. As a result, you may find that, although a little more costly at first compared to other replacement options, dental implants can turn out to be the wisest investment in restoring your missing teeth.
Who Dental Implants Can Help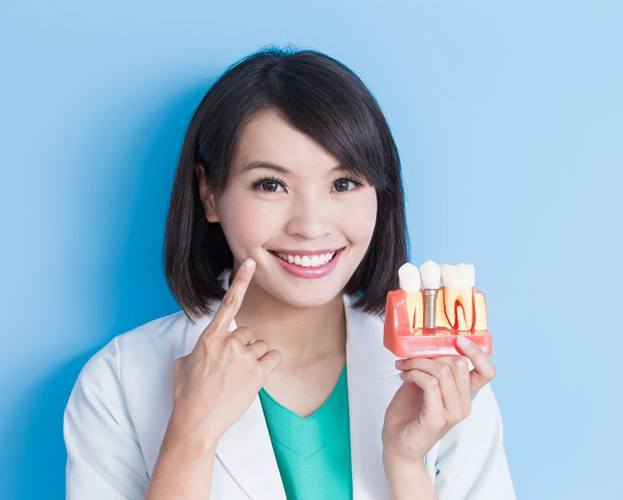 Unlike traditional tooth replacements, dental implant supported teeth renew the entire smile from the roots up to provide optimal structural stability, health, and beauty. The end result is a restoration that is the next best thing to a natural tooth, and with the proper care, it can easily last for a lifetime. The best part is that practically any healthy adult can rebuild their smile with dental implants! During your consultation, we'll see if you're a good candidate or if you need to complete some preliminary treatments first.
Missing 1 Tooth
Dental implants can replace any number of missing teeth — including just one! We'll use a single implant post to replace its roots and place a custom-made dental crown on top of it. Unlike traditional bridges, dental implants won't wear down the surrounding natural teeth or cause tooth sensitivity.
Missing Multiple Teeth
For patients missing three or more teeth consecutively, we may recommend an implant-supported fixed bridge. Just like a traditional bridge, the replacement teeth are anchored in position by dental crowns, but rather than having to reshape the surrounding healthy teeth, the crowns are placed over two dental implant posts.
Missing All Teeth
Patients with more extensive tooth loss could likely benefit from a full or partial implant denture. Like traditional dentures, the implant varieties are composed of a number of replacement teeth set into a gum-colored base. Rather than being held in position by metallic clasps or natural suction, implant dentures are connected to a series of precisely placed implant posts, giving them a hold and security that a regular denture simply cannot match. We offer both removable and fixed implant dentures depending on a patient's preference.
Understanding the Cost of Dental Implants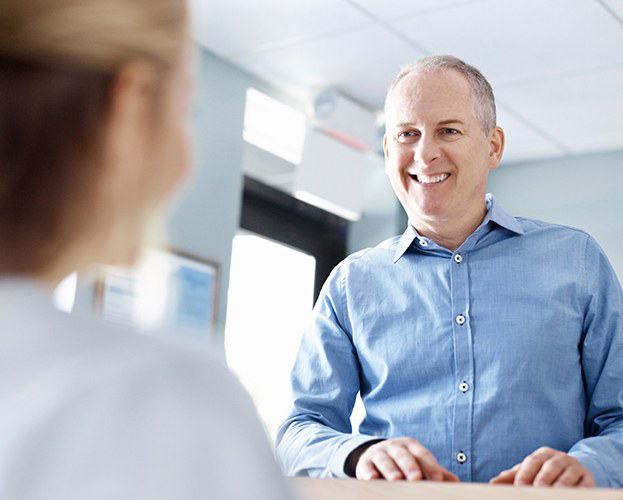 The overall cost of a dental implant procedure can vary quite a bit from person to person depending on their individual needs, such as how many teeth they would like to be replaced and where they are located in the mouth. It should be noted that thanks to their longevity, implants are often the most cost-effective replacement option for patients. While traditional bridges and dentures typically need to be completely redone every 7-10 years, implants can easily last for 30 or more, saving a patient thousands in periodic maintenance and retreatment over time.
The Number of Dental Implants Needed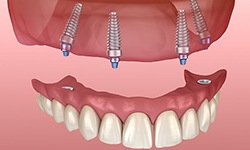 As you can imagine, a person who needs a single implant will pay less than one who needs three or four. More implants tend to make the placement procedure more complicated and involved, and this also requires the use of more materials. Fortunately, the doctors at Applegate Dental are able to work with our patients to help them achieve the best possible results using the least number of implants.
The Need for an Outside Specialist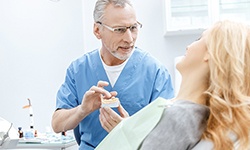 Many dental offices need to refer patients to an outside oral surgeon in order to complete the surgical portion of the procedure, adding time and expense to the entire process. However, thanks to the team of doctors at Applegate Dental, we are able to provide all-inclusive implant care for our patients so they can get everything they need in-house, saving them both time and money.
The Need for Preliminary Treatments
Two of the most basic requirements a patient needs in order to get implants is good dental health and a strong, thick jawbone that can be trusted to support the implant posts. If a patient has an ongoing dental problem (like gum disease), or if they require a bone graft to build up their jawbone, taking care of either issue will need to happen before implants can be placed, and this will add to the overall cost of the procedure. Fortunately, we can handle both right here at Applegate Dental.
Dental Insurance Coverage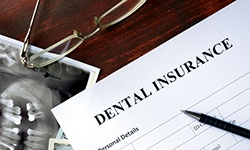 Many dental insurance plans classify dental implants as a purely cosmetic procedure, meaning they offer no coverage. However, some plans are now starting to offer implant benefits due to their growing popularity, plus there are a number of general health insurance plans that can be used to help offset the cost of the placement procedure.
When you choose to get dental implants in West Seneca with us, you will start by sitting down with one of our financial experts who will go over your different plans with you to determine the best way to help you save on your care.
What to Remember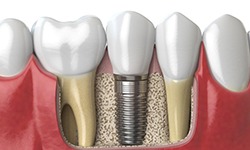 While dental implants do indeed cost more upfront than traditional bridges and dentures, they are actually the most cost-effective tooth replacement available today. In addition to the natural appearance and increased function they provide, they can also be trusted to last for 30 years or more! By comparison, bridges and dentures typically need to be replaced about every seven to ten years.
We would love to give you a more definitive answer to your question, so we invite you to schedule an initial consultation here at Applegate Dental. You will get to meet your doctor, and after performing an oral exam and taking some X-rays, they will be able to go over the particulars of your dental implant process, including what you will be expected to pay.
Dental Implants Post-Op Instructions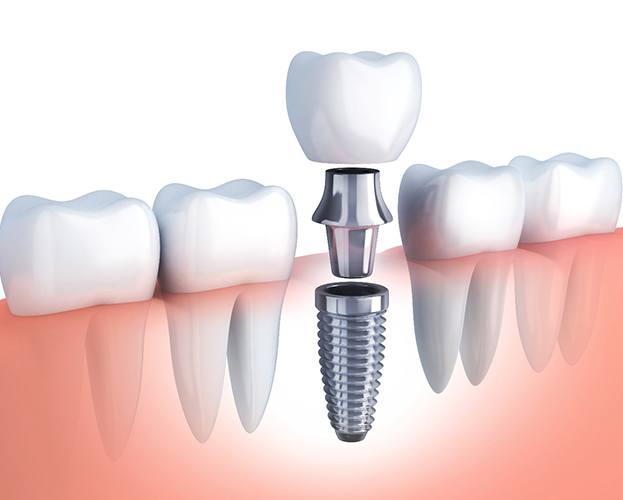 Implant placement procedure is the most intensive and invasive part of the treatment, and it's important that you follow our dental implant post-op instructions in Wiliamsville. Before you leave our office, we'll make sure you know what to do and how to care for the site so that you heal properly and set yourself up for success. There are several things you need to keep in mind moving forward so that you can avoid complications.
What to Do Directly After Dental Implant Surgery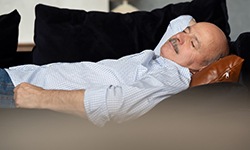 For a day or two following the surgical placement, you need to rest from your normal activities, particularly strenuous ones. It is imperative that a small blood clot forms on the site, protecting the vulnerable healing gum tissue underneath. As a result, you should not do certain things that could dislodge the clot, such as the following:
Suck through a straw.
Spit out excess saliva (instead, you should swallow or absorb it in with a tissue or gauze).
Smoke or use tobacco products.
Put a finger or tongue on the site.
Common Side-Effects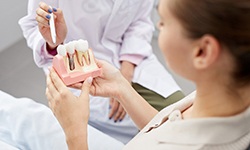 As with many surgical procedures, you'll likely experience some discomfort at the site and swelling after dental implant placement. You may also slightly bleed intermittently. In fact, it is normal to have these symptoms for several days. Just keep in mind that they should subside over time. About a week following placement, you should be able to fully resume activities and feel like your usual self. If, however, you find that your symptoms are not going away or are worsening over the course of a few days, you need to contact us.
Diet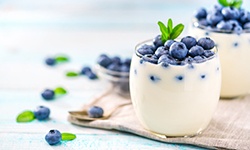 While the site is tender and the gums heal, you need to stick to a diet of soft foods. We recommend the following:
Scrambled eggs.
Mashed potatoes.
Ice cream.
Soup (not too hot).
When the gums have had more time to heal and are no longer sensitive, you can start to resume a more normal diet, but you still should try to avoid chewing directly on the site. Also, be careful as you eat hard, crunchy foods so that you don't damage the gum tissue.
Health & Oral Hygiene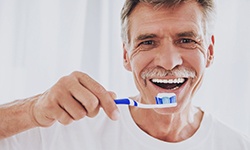 Especially as you're healing, it's important to stay on top of your oral hygiene and keep your mouth clean. Here are some tips to keep in mind:
Brush and floss your teeth as you would normally, but be gentle around the site.
Rinse with salt water, ideally after you eat, two to three times a day. Or if you have a prescription mouthwash, use that.
Avoid mouthwashes that contain alcohol.
What to Do After Your New Teeth Are Attached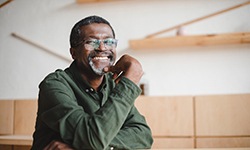 When you've fully healed and the implant has become integrated with the jawbone, you'll be ready for your restoration. After the prosthetic has been placed, you may have some sensitivity in the gum tissue, but it should easily be managed with over-the-counter medication. If you experience any worse symptoms like swelling or bleeding, let us know right away. Otherwise, you're free to enjoy your complete smile! Just make sure you continue to brush and floss your teeth and come into our office for checkups and cleanings on a regular basis.
Dental Implant Failure & Salvage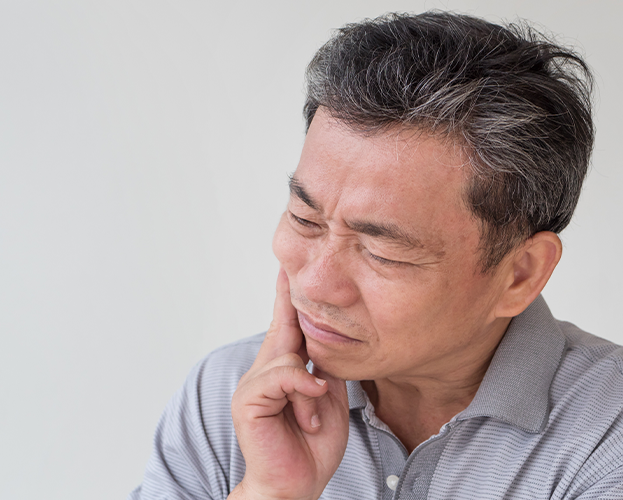 Dental implants are easily the longest lasting tooth replacement option available, boasting a 95% success rate even 10 years after placement. In fact, most patients can expect their new smile to last a lifetime. However, if you don't take the right precautions against dental implant failure, your new smile may not last as long as it should. If you experience signs of dental implant failure such as redness, swelling, and discomfort, don't hesitate to give us a call right away. We may be able to save your new smile with a dental implant salvage technique.
Learn More About Dental Implant Failure & Salvage
Dental Implant FAQs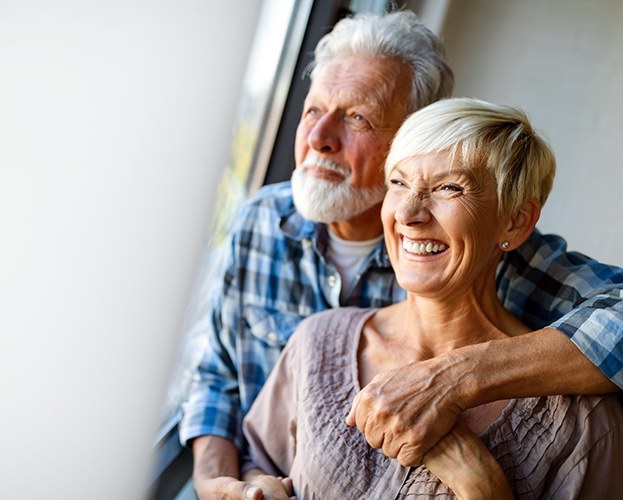 The decision to replace your missing teeth may be easy, but choosing the right solution can be much more difficult. You may have questions on your mind, but our team is here to guide you through the entire process, address your concerns, and put you at ease. We encourage you to schedule a consultation with us so that we can be as detailed as possible, but in the interim, here are some of our general responses to questions patients have often asked about dental implants in West Seneca.
How Long Do Dental Implants Last?
The lifespan of dental implants is typically much longer than that of traditional dentures or bridges. While they need to be replaced about every 5 to 10 years, dental implants can still be perfectly functional 20 or even 30 years after placement. Keep in mind that the longevity of your implants will in part depend on how well you maintain them through daily brushing and flossing and regular checkups and cleanings.
Do Dental Implants Feel Natural?
Overall, dental implants are the next best thing to natural teeth. Your prosthetic teeth will not have nerves, which means that you won't be quite as sensitive when you bite down as you would be with real teeth. However, unlike dentures, which require a period of adjustment, dental implants typically feel pretty close to natural teeth. That's because they are designed to mimic the entire tooth structure and bond directly with the jawbone as real teeth do.
How Soon After a Tooth Extraction Can I Get Dental Implants?
Each patient is different and has unique needs. As soon as tooth extraction is planned, we can begin discussing your replacement options. Typically, however, we wait a few weeks after the extraction to allow the site to somewhat heal before we proceed with implant treatment. The timing may vary depending on your situation and oral health. After we've had a chance to talk with you at a consultation, we can give you a more precise timeline.
Do I Need a Bone Graft Before Getting Dental Implants?
If you want to have successful implants, you must have a strong jawbone to support them. Fortunately, even if your jawbone has lost significant density, we can perform a bone graft and increase your chances of success. To determine whether a bone graft will be necessary in your specific case, you'll need to come in for a consultation. We'll examine your mouth and take X-ray images of your jawbone and let you know if we recommend a bone graft.