Metal-Free Dental Restorations – West Seneca, NY
Seamless Care for Damaged Teeth
At Applegate Dental, we know how important it is for a patient to maintain a healthy smile. Our goal is to provide optimal care, and when it comes to restoring and repairing a decayed or damaged tooth, we use materials that will not only appeal to patients with metal sensitivities but also create an aesthetically pleasing appearance. Using metal-free restorations in West Seneca such as crowns, inlays, onlays, bridges, tooth-colored fillings, we can create a durable and longer-lasting restoration that will have you enjoying a new and improved smile for years to come. To find out how we can help you, contact our dental office to schedule an appointment to discuss smile repair and enhancement with metal-free dental restorations in West Seneca, NY.
Why Choose Applegate Dental for Metal-Free Dental Restorations?
Long-Lasting Tooth-Colored Materials
Highly Experienced, Caring Dental Team
Patients of All Ages are Welcomed
What Are Metal-Free Dental Restorations?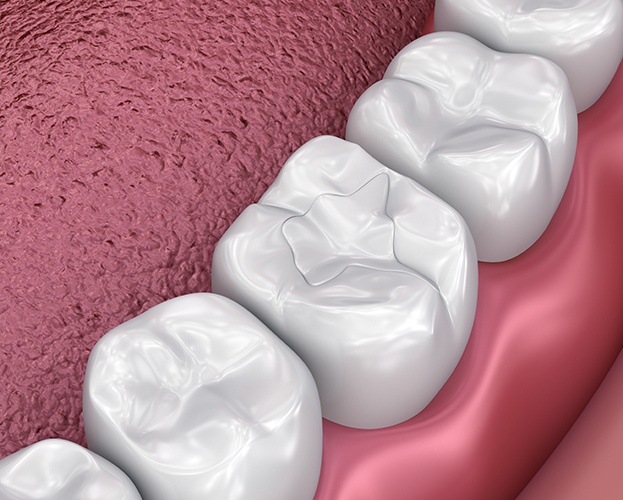 You may not realize it, but many patients have sensitivities or allergies to metal. This can be problematic when attempting to repair a damaged tooth. Since so many restorative treatment methods can be created using a variety of metals, our highly skilled dental team opts for ceramic and natural restorations that are metal-free. Some of these restorations include:
Tooth-colored fillings
Natural-colored dental crowns
Fixed bridges
Inlays and onlays
By using metal-free restorations, we can help you maintain a natural look that blends in seamlessly with the rest of your smile. In addition to the visual appeal, they will also restore the natural function of your tooth, giving you the confidence needed to eat, chew, and speak with clarity.
What Are the Benefits of
Metal-Free Dental Restorations?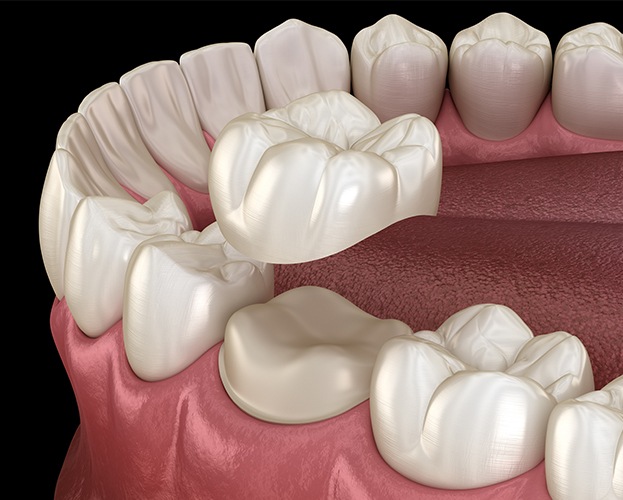 When you hear the word, "metal," you might automatically assume it is stronger and more stable. While this is true for the most part, when it comes to your oral health, metal restorations can cause additional problems to your teeth, as well as negatively affect the look of your smile. Metal can rust, and over time, dark rings can begin to form at the base of your restoration.
If you are preparing to have a decayed or damaged tooth fixed by a cosmetic dentist in West Seneca, it is time you considered the benefits of metal-free restorations, some of which include:
Available to All Patients: As we mentioned previously, patients with sensitivities to metal can face a difficult time receiving treatment for a decayed tooth; however, with metal-free restorations, it eliminates the problem and makes it possible for these patients to receive treatment.
Longer-Lasting Solution: If you commit to taking care of your metal-free restoration, you can expect it to last at least a decade or more. Brushing, flossing, rinsing, and regular dental checkups and cleanings are necessary for extending the life of your restoration. It also helps to avoid stain-causing foods and beverages (or smoking) to prevent stains or discoloration from developing.
Increase Confidence: Not only will you be happy that your smile is fully restored, and your tooth has full functionality, but no one will ever have to know you have received treatment because your restoration looks completely natural.
What is the Metal-Free Dental Restoration Process?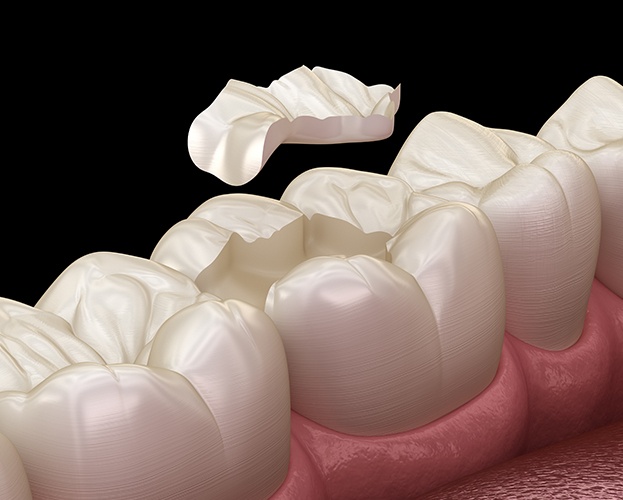 Depending on your individual case, the typical process can take anywhere from one to two visits. For a tooth-colored filling, we can quickly and easily remove the decayed portion of your tooth and fill it with a composite resin that is matched to your natural tooth color. We will sculpt it, so it lays properly and seals the tooth to prevent future infection.
For dental crowns, bridges, inlays or onlays, you will be required to schedule two visits. The first appointment will include removing any of the decayed or damaged portions of the tooth. We will also need to remove a small portion of the enamel to ensure the restoration fits correctly. Then, we will take an impression of the tooth and send it to the lab to have your restoration created. To ensure your tooth remains protected, we will apply a temporary restoration until the permanent one is ready.
Once we receive your finalized restoration, you will return for your second appointment where we will remove the temporary and secure the permanent one into place. You will leave our dental office with a beautiful, flawless smile.