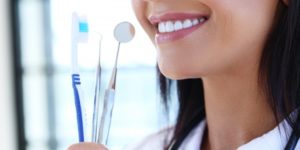 For weeks now, your plans have been put on hold. You and your family, just like the rest of the world, are under lockdown and need to stay home for the time being. That means errands, entertainment, and appointments have to be postponed. But in the case of your six-month dental visit, you'll be missing essential care and may not be able to see your dentist for a couple of months. How can you make sure you're keeping up with your dental hygiene through the quarantine? Read on to find out!
Brush Twice for Two Minutes Each
Every evening before you go to bed, brushing your teeth is likely already a part of your routine. However, do you brush in the morning as well? Some people think that because they haven't eaten during the night, they don't need to brush when they wake up. While you sleep, your saliva production drastically slows down, allowing bacteria and plaque to accumulate on your teeth. That's why you need to fit brushing your teeth into your morning routine as well.
Just as important as frequency, the duration of your brushing can determine how effective it is. A quick run-through of your teeth often leaves food particles, bacteria, and plaque behind, making cavities and gum disease more likely. Take two whole minutes to make sure you get all the surfaces of your teeth.
Make Sure to Floss
If you aren't currently flossing, you should do so starting tonight! This small habit may seem like a minor inconvenience, but it make a huge difference in protecting your smile against decay and infection. Your toothbrush can't access the spaces between your teeth, making it the perfect place for cavity-causing bacteria to build up. Before you go to bed, take a few minutes to floss thoroughly.
Use Mouthwash
During this time, you may want to utilize every possible resource available to keep your smile healthy. To strengthen your tooth enamel, use a mouthwash with fluoride in it. For extra protection, you can look for one that has antibacterial properties as well.
Look Ahead
Although no one knows when the COVID-19 quarantine will end, it is important to remember that at some point life can return to a more normal routine. When that happens, your dentist's office will become extremely busy very quickly. It may be a good idea to schedule an appointment a month or two out in hopes that you'll be able to keep it. Just remember to be flexible in case the quarantine is still in full force then.
When the dust settles and you're able to return to your dentist's office for your regular checkup and cleaning, you'll be less likely to have problems—if you follow these tips. Daily effort toward your dental health can help you avoid dental emergencies during quarantine and the need for additional treatment afterward.
About the Practice
In compliance with the guidelines from the American Dental Association, Applegate Dental LLC is currently closed due to the threat of COVID-19. We encourage strong oral hygiene routines at home to keep your smile in healthy condition in the meantime. However, if you have a dental emergency, you can contact the five dentists on staff by calling (716) 712-5301 or clicking here.