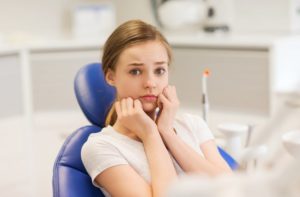 Your heart races. Your breathing quickens. Just the thought of a dental visit gives you a borderline panic attack. Your fear of going to the dentist is very real, and yet you realize how important these appointments are for keeping your smile healthy. If you skip going to the dentist, you run the risk of developing more advanced and potentially more painful oral problems down the road. Luckily, your dentist can offer you oral conscious sedation in West Seneca. At first, you may think that you'd rather be completely knocked out for your dental visits, but this method provides several advantages over general anesthesia. Read on to learn more about these benefits.
Oral conscious sedation treats moderate to severe dental anxiety.
If nitrous oxide just won't get the job done, oral conscious sedation is the perfect solution to take away your worries. This treatment removes your fear and replaces it with a contented, relaxed feeling. Throughout your appointment, you'll be only barely aware of what's going on, meaning that you won't be bothered by any sound or other potentially stressful stimuli.
Oral conscious sedation doesn't require a needle.
If you have dental anxiety, you likely have a fear of needles as well, but general anesthesia involves intravenous (IV) administration of sedation medication. However, oral conscious sedation spares you the discomfort of having an IV altogether. You just take a pill and then sit back and relax.
You likely won't remember details of the appointment.
Although you'll likely be awake for your appointment with oral conscious sedation, don't be surprised if you find recalling the specifics of your visit difficult. This comes in handy particularly for those with severe dental anxiety or if you are undergoing a complex procedure. With oral conscious sedation, you can forget about your worries and enjoy the benefits of ending up with a healthier smile.
You will still be able to respond to the dentist.
Oral conscious sedation isn't designed to put you to sleep; after all, it's called oral conscious sedation. However, many patients experience such a relaxing sensation that they can fall asleep with this method. Keep in mind that although it may seem appealing to be unconscious during your dental procedure, in many cases, it can be more convenient and helpful to the dental staff for you to remain awake. That way, you can respond to simple requests, they can more easily monitor your health and safety, and you can get the dental work completed more efficiently.
Oral conscious sedation is a simple process.
Again, unlike general anesthesia, oral conscious sedation is administered through a pill that you take as instructed, usually a few hours before the appointment begins. Then, a friend or family member drives you to the appointment, at which point the effects of the pill should be in full effect. After the appointment is over, you are driven home and given time to return to normal.
To keep your smile healthy for the long term, it's important to get the oral care you need on a regular basis. Oral conscious sedation allows you to do so without dealing with overwhelming fear. Find a compassionate sedation dentist in West Seneca that offers this option so that your teeth and gums remain decay and infection free for many years to come.
About the Practice
At Applegate Dental PLLC, four dentists provide families in West Seneca with the dental care they need for healthy smiles. They genuinely care about giving patients a positive experience and offer oral conscious sedation to those who have dental anxiety. To schedule an appointment with Applegate Dental PLLC, you can call (716) 668-4646 or click here.