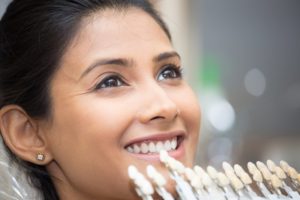 You've had enough of your chipped, gapped teeth. You're finally ready to correct the little flaws in your smile and enjoy more confidence. In your fast online research, you've learned a little bit about porcelain veneers and cosmetic bonding, but you're not sure which you should pick. While porcelain veneers consist of ceramic sheets that cover many kinds of imperfections, cosmetic bonding uses tooth-colored composite resin to give you aesthetically-pleasing results. While choosing porcelain veneers vs. bonding, here are five factors that you should consider.
Severity of Flaws
Although cosmetic bonding and porcelain veneers can be used in similar situations, porcelain veneers may be the better solution for more severe cases because of their durability and strength. For example, how big are the gaps between your teeth? Small gaps can be reduced with composite resin, but more significant spaces may require porcelain veneers.
Longevity
You need to decide how long you want your cosmetic treatment to last. In general, porcelain veneers tend to go longer than bonding before needing to be replaced. While about 10 years is the typical lifespan of bonding, porcelain veneers can last twice as long with the proper care because of the durable ceramic material. If you want to avoid having to replace your updated smile as frequently, porcelain veneers may be the right choice for you.
Stain Resistance
Compared to composite resin and tooth enamel, porcelain veneers are far better at resisting stains. In other words, over time, composite resin can begin to show stains faster than porcelain veneers, so if you still have coffee breaks and meals with soy sauce in your future, you may want to pick porcelain veneers to keep your smile as pristine as possible.
Convenience
Like filling a cavity, bonding usually takes just one appointment to complete from start to finish. In contrast porcelain veneers entail two separate visits because the custom veneers have to be created in a dental lab. Also, did you know that placing porcelain veneers includes removing a small part of the tooth enamel first? For a non-permanent solution, bonding can be a great choice.
Cost
Porcelain veneers require an additional appointment and more advanced materials than bonding. As a result, the cost of treatment tends to be a little higher for porcelain veneers. However, when you include the potential cost of replacing the bonding down the road, porcelain veneers could show to be the smarter long-term investment in your smile.
In the end, this can be a difficult choice, but you don't have to make it all by yourself. When you meet with your dentist during a consultation, they can examine your unique teeth and provide expert advice on which treatment will meet your needs. Are you ready to look and feel your best? Schedule your appointment and learn more today!
About Applegate Dental PLLC
At Applegate Dental PLLC, patients in West Seneca have not just one talented dentist but four to choose from. They each have years of advanced training and clinical experience in aesthetic procedures, and their cosmetic services include porcelain veneers, teeth whitening, and metal-free restorations. If you have questions or would like to schedule a consultation at Applegate Dental PLLC, you can call (716) 668-4646 or click here.